---
Cultural Spotlight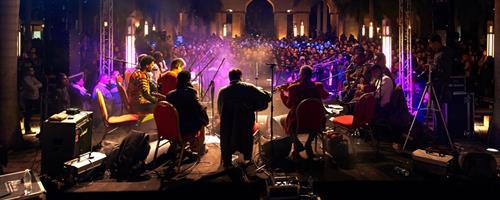 World-Class Talent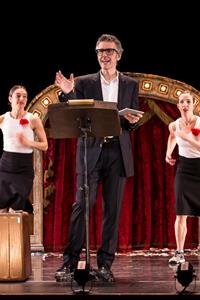 MDC Live Arts presented Ira Glass, center, in 'Three Acts, Two Dancers, One Radio Host.' (Photo by David Bazemore)
After a rousing opening that resonated with international sounds of Afro-Cuban funk and Latin jazz, MDC Live Arts continues its 24th season with captivating theater, exquisite dance, eclectic music and simply unforgettable experiences of live performance.  
This month, the performing arts series welcomed renowned National Public Radio journalist Ira Glass to kick-off this year's Miami Book Fair International with Three Acts, Two Dancers, One Radio Host. This special performance, featuring Glass and dancers from Monica Bill Barnes & Company, was a unique combination of storytelling and dance, perfect for the opening of the country's largest celebration of the written word. The result was a funny, lively and heartfelt evening of dance and stories that has brought down the house wherever it's been performed, starting with its first test run at Carnegie Hall in 2013.
Notoriety and crossed disciplines are again featured in December when MDC Live Arts partners with MDC's Museum of Art + Design and Art Basel Miami Beach to present one of the world's most prestigious artists and choreographers, Shen Wei (see story on the facing page).
Then in the new year, in a work brought together through water conservancy awareness, The Nile Project in January will fill Miami Beach's North Shore Band Shell with pan-African sounds from Ethiopia, Egypt, Burundi, Rwanda, Uganda and Kenya. These young master musicians from throughout the Nile River Basin have created a new sound that weaves together the musical traditions of their respective countries.
— AMS
More Cultural Spotlight Articles