---
Cultural Spotlight
He Loves MDC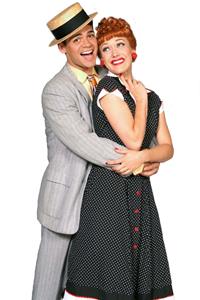 Euríamis Losada with 'I Love Lucy' co-star Thea Brooks
Former Miami Dade College student Euríamis Losada has taken one of the most iconic characters in TV history from the small screen to the big stage, from nostalgic black-and-white to a vibrant modern full-color portrayal.
Losada recently came to Miami's Adrienne Arsht Center for the Performing Arts to play Ricky Ricardo in the play I Love Lucy Live on Stage.
The late Desi Arnaz played Ricardo on the TV show I Love Lucy, which aired from 1951 to 1957, winning an impressive five Emmy Awards. In 2012, an ABC News/People Magazine survey hailed it as the "best TV show of all time."
That's a huge role for Losada to step into, but a recent article in El Nuevo Herald praised him for perfectly capturing the singing voice of his fellow
Cuban star, Arnaz.
Losada now lives in Los Angeles, but he found it fitting that he could come back to perform in Miami, where he got his collegiate start at MDC and where his family still lives.
Losada, who was born in December of 1988, came to the United States at the age of 7 and studied at Southwest High before enrolling at Miami Dade College.
"My specialty at MDC was theater," Losada told El Nuevo Herald. "But I also sang in church since I was a boy. I'm a tenor, but I sing as a baritone (as Ricardo) because Arnaz was a baritone."
More Cultural Spotlight Articles