---
Making Their Mark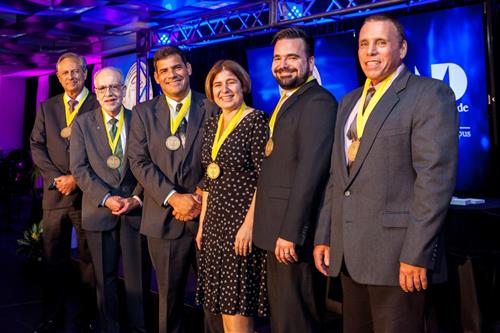 Scientific Research Reaches New Heights at MDC
Celebrating the outstanding research accomplishments of its faculty, MDC's School of Science recently hosted the Distinguished Science Research Awards Program at the North Campus Conference Center. The ceremony highlighted the scholarly role of the professors in conducting advanced scientific research at MDC as well as serving as mentors to undergraduate students.
This year's ceremony recognized faculty who are both continuing earlier research endeavors and starting new projects in diverse fields, including age-related macular degeneration, the effects of solvents on the carbonyl signal and the genetic variations of palm species. Faculty members honored included:
Dr. José Calavia and Dr. Soumia Souchak, for a physics study of metallic and dielectric Photonic Band Gap material at microwave frequencies using HFSS software
Dr. Carlos Fernández, for chemistry research involving the solvent effects of benzaldehyde and substituted benzaldehydes' carbonyl proton chemical shift using the picoSpin-45 NMR Spectrometer
Dr. Jorge Gibert, for physics work to develop non-invasive methods to measure macular pigment distribution in the human retina and the use of eye-tracking systems to assess the light distribution in the retina under natural viewing conditions and its possible relationship with age-related macular degeneration
Dr. Steven Ritter and Professor Alfredo León, for biology research using the sequence of the large subunit of ribulose-biphosphate carboxylase (rbcL) to determine the lineage of the chloroplast, as well as determining evolutionary relationships between the various members of the Sabal group
During the award ceremony, student researchers offered their reflections on their experiences in participating in these varied projects. Each of the honorees received a medal depicting Da Vinci's Vitruvian Man as a symbol of humankind's quest for understanding of the universe through science.
More Making Their Mark Articles