---
Making Their Mark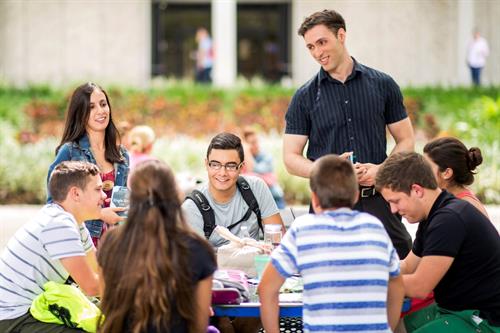 A Single Stop for Multiple Perspectives
Former MDC student Michael Matthiesen will have an exciting opportunity to continue his graduate studies abroad, thanks to a Global Grant Scholarship he received from the Rotary Foundation. The prestigious grant was sponsored by Rotary District 6990 and matched 100 percent by the World Fund for a total of $30,000.
Matthiesen spent two years working as an AmeriCorps VISTA Volunteer for MDC's Single Stop program, a rewarding experience where he helped people and learned a lot in the process.
"Working at Single Stop was all at once eye-opening, humbling, enlightening and nothing short of amazing," Matthiesen said. "I was ready to make a difference with my idealism, optimism and faith, and I got to do that at Single Stop."
Ideas Percolate
With the scholarship, Matthiesen will spend one year studying at the University College of London pursuing a master's degree in philosophy, politics and the economics of health. It was through MDC's Single Stop that he became aware of the scholarship, and his work there laid the foundation for his graduate studies.
"I learned about the scholarship opportunity from MDC Single Stop Director Barbara Pryor," said Matthiesen. "I was motivated to apply in order to help build upon the work I had done with Single Stop, and I'm very grateful to be awarded such an opportunity."
Relating Data to Life
Matthiesen will study the social determinants of health and behavioral economics, an area of research examining how social constructs in society – such as the ZIP code where a person lives, or the number of grocery stores in their community – can predict quality of life.
"The Single Stop experience will help my graduate studies because I saw these social constructs right here in our community," Matthiesen said. "And I also saw how Single Stop's efforts support those MDC students and their families who deal with some of these issues."
In addition to the Global Grant Scholarship, Matthiesen has also earned the President's Call to Service Award and attained the President's Volunteer Service Award Gold Level.
— NN
More Making Their Mark Articles