---
Making Their Mark
Anatomy of Success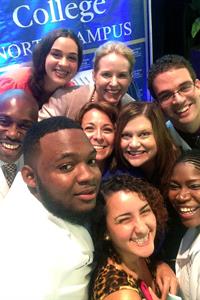 At the awards, Dmitre St. Surin took a selfie with School of Science Dean Dr. Heather Belmont, center right, and friends.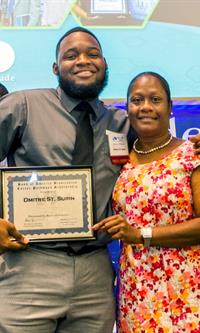 Dmitre St. Surin with North Campus President Malou C. Harrison
It was on a rainy Friday evening at North Campus' Science Complex that MDC student Dmitre St. Surin first crossed paths with Dr. Heather Belmont, dean of the School of Science. Not knowing it at the time, he was taking his first step along a path that would lead to prestigious national awards and rewarding academic success.
"Dmitre showed up after hours, and we had a brief conversation about his future," said Belmont. "I asked him to stop by my office the following Monday. Fortunately he did, and the rest is history."
It all came to fruition recently when St. Surin received the Student Mentor Award from McGraw-Hill for his exceptional performance in their anatomy pilot program, as well as for his work tutoring students in anatomy and physiology.
Although he is currently a star scholar, it wasn't always smooth sailing. "I almost decided to drop out of school, but then I met Dean Belmont," St. Surin said. "She saved my life when she told me about MDC's science program."
Star on Dean's List
Once enrolled, St. Surin quickly excelled, making the Dean's List each semester. He also went on his first trip outside of Florida to attend university science seminars, and he conducted research in microbiology and cell science at the University of Florida.
"I can't tell you how much MDC has helped me reach my goals," said St. Surin. "My grades have surpassed all expectations, and I've acquired so many skills that have prepared me for when I decide which graduate school to attend."
Looking back on how different his life was a few short years ago keeps St. Surin motivated to excel. He is also aware of the impact his accomplishments have on those closest to him.
Inspiring Others
"I have three younger brothers I have raised, and they really look up to me," he said. "I'm definitely doing it for them."
In addition to the recognition St. Surin has received from MDC faculty and students, an even greater source of pride comes from his family and friends. 
"Being recognized for all that I have achieved is one of the greatest feelings," he said. "In my community, I'm now a role model for overcoming so many odds. I refuse to go back to the life I had before, so there is no better feeling for me than where I am today."
— NN
More Making Their Mark Articles