---
Making Their Mark
In a League of Their Own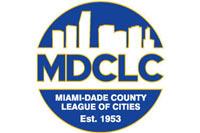 The Miami-Dade County League of Cities (MDCLC) recently presented scholarships to deserving MDC students.
Three hard-working MDC students are now one step closer to achieving their education goals thanks to scholarships provided by the Miami-Dade County League of Cities (MDCLC). Local elected officials from the County and its municipalities presented each student with the scholarships at the MDCLC's recent monthly board meeting.

To win the prestigious scholarship, recipients must be focusing their studies on political science, government or public administration; have a GPA of 3.0 or higher; be a legal resident of the U.S.; and work a minimum of five hours per week at an internship site within
Miami-Dade County with the goal of developing hands-on experience into the ways in which local government works. Each of the three MDC winners has exciting career plans ahead of them.
Jasmyn Williams, a political science major with a 3.6 GPA who is on the Academic Dean's List, has been a Police Explorer with Miami-Dade County Police since 2010 and is currently the captain of her Explorer post. After she graduates from MDC, she plans to pursue a master's degree in public administration.
Steve Calle, a political science and international relations major with a 3.4 GPA, plans to pursue studies in international relations and to eventually work for the United Nations or as a foreign service officer.
Heidy Hernández, a political science student with a 3.7 GPA who is on the Academic Dean's List and a member of Phi Theta Kappa, plans to get a law degree after graduating from MDC.
In addition to the scholarship award, all three began their internships with a local municipality this fall.
For more information about qualifying and also to learn how to apply for an MDCLC Scholarship, contact Ramiro Inguanzo at 305-237-3141 or send an email to ringuanz@mdc.edu. 
More Making Their Mark Articles