---
Making Their Mark
Hooked on Journalism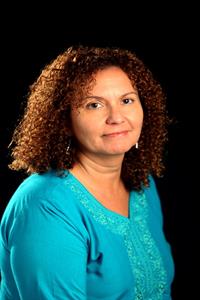 MDC alumna Nancy San Martin is an interactive editor for the 'Miami Herald'.
Nancy San Martin's journalism career has taken her to some exotic locales and some scary places, too.
"Afghanistan and Haiti were two places that got dicey," said San Martin, who recently traveled to Greenland to do a story on climate change.
Now having risen in the ranks at the Miami Herald, Interactive Editor San Martin said her journalism career would not have happened without MDC.
Born in Los Angeles to a Mexican-American mother and a Cuban father and raised in Miami, San Martin said she felt lost in high school.
But MDC – and journalism – helped her discover a whole new world.
"At MDC, I fell in love with the dynamic of the classroom and debating with professors," she said. "It felt like I was learning for the first time. The teachers knew their students, and there was tremendous camaraderie on campus."
San Martin had no idea what she wanted for a career until an MDC English professor suggested she write for the school newspaper.
"Working on the paper was energizing," said San Martin, who graduated from MDC in 1986. "I knew right away that was what I wanted to do for my career. MDC helped get me an internship at the Miami Herald."
That internship led to a job at the Herald once San Martin finished a bachelor's degree in mass communications. Her career then took her in 1992 to the Fort Lauderdale Sun-Sentinel, where she carved out a path to foreign reporting, and in 1998 to the Dallas Morning News, where she covered U.S./Mexico border issues from a bureau in El Paso, Texas. There, her work on the Elián González story prompted Herald editors to recruit her back to Miami in 2001 to cover Cuba, which led to a Harvard University Nieman Fellowship in 2006.
More recently, San Martin has served as executive producer for two films, including a documentary on the major earthquake that hit Haiti in 2010, which earned her a regional Emmy Award.
— WV
More Making Their Mark Articles