---
Making Their Mark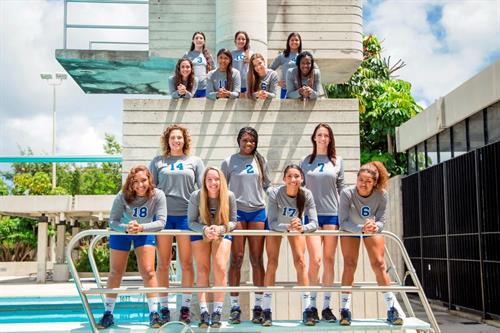 Acing It
Miami Dade College's women's volleyball team opened the 2014 season by beating two of the top 15 junior-college teams in the nation, including No. 5 College of Central Florida.
"We're off to a great start," said sophomore Merrisa D. Murphy, who is a 6-foot middle blocker from the U.S. Virgin Islands. "Those were only our second and third games, and we played outstandingly well. Just imagine how good we'll be by the end of the season."
That's exactly what MDC's 10th-year head coach Orígines "Kiko" Benoit is thinking.
The team has six sophomores and eight freshmen, and Benoit believes those young players will improve as the season reaches its conclusion late this fall.
Diverse Lineup
The 14 Shark players hail from around world, including Colombia, Puerto Rico, the U.S. Virgin Islands, Greece, Venezuela and the U.S. It's a hard-working, ambitious bunch.
Murphy, for example, is majoring in psychology and wants to become a naval officer.
Adara Anselmo, a 5-foot-9 defensive specialist from Miami's Coral Reef High School, wants to become a nurse and plans to lend a hand in countries around the world, starting with Brazil.
Murphy and Anselmo said they are both grateful for the opportunity they have to study and play at Miami Dade College, and they plan to take advantage by working as hard as possible.
But Benoit said that no one on his roster is working any harder than Silvia Galeano, a 5-foot-10 sophomore outside hitter from Nechi, Colombia.
Creating Team Spirit
Galeano, who wants to become a psychologist, plans to use volleyball to change her family's financial fortunes, and her hunger to achieve that goal has shown through on and off the court.
"She came here without knowing any English," Benoit said, "and, in nine months, she has made amazing progress."
On the court, Galeano has been MDC's best player so far this season, Benoit said.
Galeano's teammates have noticed her work ethic.
"She eats, drinks and sleeps volleyball," Murphy said. "She is so in love with the game, and I admire that about her. She has a winning personality that inspires the team."
— WV
More Making Their Mark Articles