---
Making Their Mark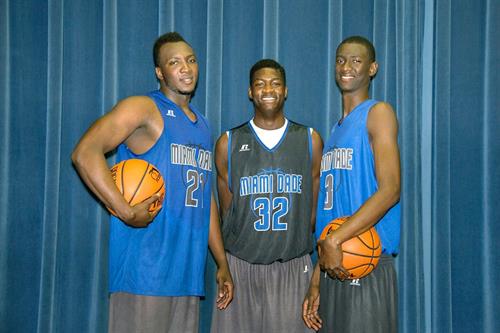 Designed to Win
One of the signs of a successful college sports program is the ability to prepare student-athletes for the next stage of their careers.
In this regard, Miami Dade College shines. Noteworthy among its many accomplishments is the Sharks men's basketball team, which was highly successful last season and may perform even better this year.
MDC Coach Stephen Cowherd said three of his players signed with Division I, four-year universities after last season: Darius Perkins (Utah State), Prince Cooper (Louisiana-Monroe) and Michael Calder (Indiana-Purdue Fort Wayne).
Those three talented guards helped MDC finish 21-9, earning a berth in the NJCAA Region 8 tournament for the first time since 2009.
This season, MDC aims even higher thanks to the players Cowherd and his assistant coaches have assembled.
"All 11 of our players have the talent to play Division I basketball," Cowherd said.
Winning Mix
Three of MDC's freshmen this year are foreign-born players: 6-foot-5 shooting guard Joe Junior Mvuezolo from England; 6-foot-8 forward Macoumba "Papy" Kane from Senegal; and 6-foot-9 Dalen Traore from the Ivory Coast.
Mvuezolo played for England in the Under-20 European World Championships and plans to focus his studies on physical education.
Traore wants to study sports medicine. He and Kane met last season while spending their senior year of high school at Northwood Temple Academy in North Carolina. For his part, Kane wants to become an interior designer.
Quick Assimilation
Kane and Traore speak French, and each also speaks an additional language from their country of origin. They did not know English until they got to the U.S., but they've learned quickly.
Kane convinced Traore to come to MDC. "Now I really love MDC, too," Traore said. "The professors all know us by name – it's great."
And "great" is just what Cowherd is expecting from this season's team, which has 10 new players and loads of ability.
"The talent we have is the best since I've been here," said Cowherd, who is in his fourth year at Miami Dade College. "It's going to make a big difference because the kids have some unique skill sets."
— WV
More Making Their Mark Articles