---
Powerful Partnerships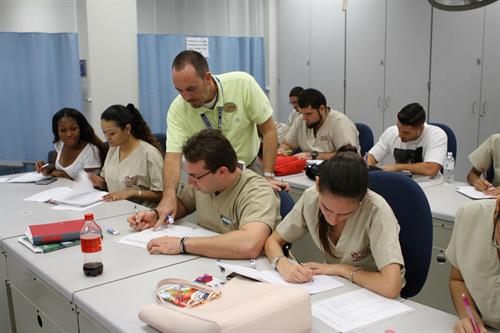 The Perfect Rx for Success
MDC's School of Health Sciences cuts an impressive profile in the community, and recently the success of its pharmacy technician program has generated important, new collaborations.
"We formed an agreement with Publix supermarkets for our students to work in their pharmacies," said Scott Raines, coordinator of MDC's pharmacy technician program. "We have a great relationship with them, and nearly every student we have placed there as an extern has actually been hired by Publix once they completed our program."
MDC offers a certificate that combines classroom instruction with on-the-job clinical training. Students receive lots of support while they learn the ropes in the industry. "Classes are at night, so during the day I visit our 30 or so externs working across the region," Raines said. "There are many hospitals and pharmacies in the area that look to us exclusively for externs."
"The field is fast-paced and growing, and our graduates have a great track record of going straight from coursework at MDC into a job."
To see so many students excel is a rewarding experience for the faculty and staff.
"I'm thrilled to be at MDC, and couldn't imagine teaching anywhere else," Raines said.
More Powerful Partnerships Articles