---
Powerful Partnerships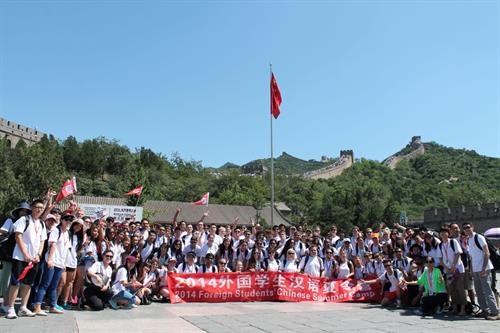 Students Shine in Beijing Program
Twenty MDC students recently had the experience of a lifetime when they attended a four-week exchange program at Beijing International Chinese College (BICC).
Sponsored by Hanban/Confucius Institute Headquarters in Beijing and organized by the BICC, the program's comprehensive curriculum combined Chinese language instruction with exposure to both traditional and contemporary Chinese culture through in-depth immersion experiences.
The MDC students were able to participate in this unique study abroad program thanks to the Confucius Institute at MDC, which provides support and guidance for cross-cultural learning.
New Chapter Begins
"Each one of us left China not only knowing more about Chinese culture and language, but knowing more about ourselves and the human condition as a whole," said MDC business student Matthew Núñez. "This was my first study abroad program, and the beginning of a new chapter in my life."
The students chosen for the program represent four MDC campuses and a wide variety of academic interests, from international relations and psychology to physics and mass communications.
History of Excellence
"This is the second year in a row that MDC students made up the largest percentage of students admitted from U.S. colleges, which speaks highly of Miami Dade College's strong tradition of excellence in higher education," said Dr. Xuejun Yu, director of the Confucius Institute at MDC. "Only 130 participants were selected from around the globe, and most others chosen from the U.S. attend four-year universities such as Johns Hopkins, the University of Chicago and the University of North Carolina-Chapel Hill."
Enrollment in these programs enhance MDC's longstanding track record of promoting international academic collaborations.
"The eagerness and intellectual curiosity that MDC students bring to our programs have earned the College such positive recognition that the BICC has enthusiastically expanded its recruitment from MDC," said Yu.
— NN
More Powerful Partnerships Articles