---
Cultural Spotlight
A New Gallery Emerges at Hialeah Campus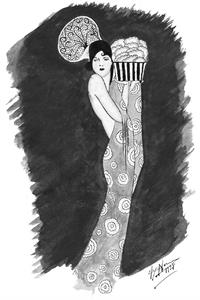 The Finesse of the '20s by Eloy Norman in Black Ink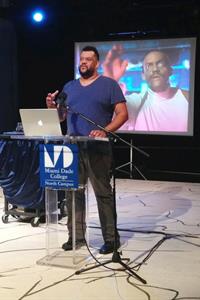 Wayne Hodge
Great art has a new home at Miami Dade College's Hialeah Campus, where the MDC Galleries of Art + Design will be unveiling Hialeah Gallery later this month.
The new gallery is a component of a community center the campus is establishing with the support of a Knight Arts Challenge grant from the John S. and James L. Knight Foundation and the Florida Humanities Council.
"The Hialeah Campus Gallery will provide the community enhancing artistic and cultural opportunities," said Hialeah Campus President Dr. Mattie Roig-Watnik.
The gallery will be opened to the public on Feb. 25 with the inaugural exhibition Black Ink, a show curated by Gustavo Orta and featuring drawings by an array of renowned Cuban artists.
Northern Happenings
At North Gallery, the work of late printmaker Harvey Littleton is on view through March 20. Also included in the exhibition are prints by numerous artists who were invited to work at Littleton Studios over the years.
North Campus also recently hosted a presentation by multimedia artist Wayne Hodge, who offered the talk Science Fiction and Its Discontents during the exhibition the past is more infinite than the future, an exhibition that featured Hodge's work alongside that of William Cordova.
— MR
More Cultural Spotlight Articles