---
Cultural Spotlight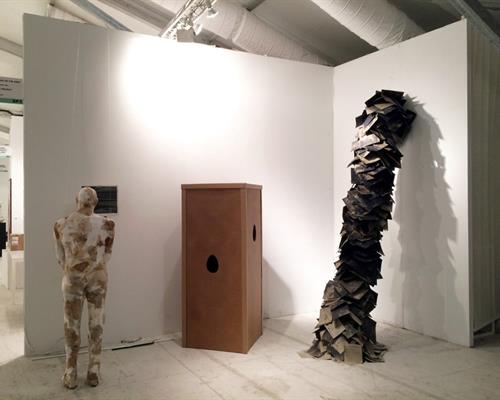 At the Center of It All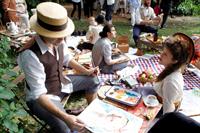 NWSA visual art students took a page from history at Casa Lin, re-enacting a day in the life of an early 20th century art colony.
At the peak of Miami's art fair season, the work of New World School of the Arts (NWSA) students stood front and center for the whole world to see.
Miami's most prestigious conservatory for the arts, NWSA made a strong showing in HOTBED at Casa Lin, an outdoor art space in the heart of the Wynwood Arts District that has showcased the work of NWSA visual art students and alumni for nearly a decade under the guidance of NWSA Visual Arts Dean Maggy Cuesta. This year, the Visual Arts Department collaborated with Wet Heat Project's Bill Bilowit for the fifth consecutive year of HOTBED, which is an official Art Basel Miami Beach event. The Colony, en Plein Air showcased a staged scene conceptualized by Bilowit and created by alumna Cristina Pettersson reminiscent of an early 20th century art colony, making artwork out in the open while visitors from around the world perused the grounds and viewed the students as they created their work. Those who participated in the exhibition were Leticia Corea, Rafael Domenech, Michael Fernández, Rebecca Flor, Ruben Gabeau, Denise Gorrio and Alden Solis.
At CONTEXT Art Fair, part of Art Miami, A Piece of Me showcased work by 10 NWSA high school students who interpreted a video by renowned Miami artist and NWSA alumnus Hernán Bas. Students chosen for this exhibition developed and produced by Bilowit were María López, Luz Orozco, Caroline Radell, Juan José García, Samantha Grenier, John Chiaverini, Bernadeta Majauskaite, Khadine Caines, Timothy Eutsay  and Andrés Cazalis-Hudec.
A Piece of Me was presented at CONTEXT Art Fair through the generous support of Nick Korniloff, partner and director of Art Miami and executive vice president of CONTEXT Art Fair; Julián Navarro, show director of CONTEXT Art Fair and Pamela Cohen, director of marketing, VIP relations, sponsors and partners at Art Miami.
NWSA faculty also enjoyed the art fair limelight. Professor Fredric Snitzer – who directs a well-known local gallery that bears his name – drew a crowd to the conservatory's gallery for a solo show, still crazy… recent work, his first in many years.
More Cultural Spotlight Articles