---
Making Their Mark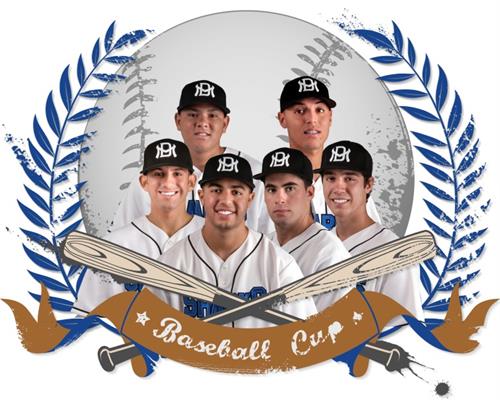 Ready to Bat a Thousand
David Palenzuela said it was the most fun he's had in his life.
The MDC baseball standout was referring to the Sharks' run last spring to the 2014 Junior College World Series. The Sharks finished second in the country, making it all the way to the championship game in Grand Junction, Colo.
Now that the 2015 season is upon us, the Sharks are hoping to return to Grand Junction.
Promising Recruits
"Of course I feel some pressure," said Palenzuela, a 6-2, 205-pound sophomore first baseman from Monsignor Pace High School. "More than half of last year's team graduated, but our coaches are really good about recruiting new players."
That coaching staff, which is led by Danny Price, returns six key players from last season's team, including Palenzuela, who batted .360 and hit third in the lineup.
Other key returners include starting shortstop Bryan Colón, who made just seven errors last season, left fielder Delvy Palmeiro, catcher Jonathan Morales, and left-handed pitchers Robert Evans and Jonathan Bermúdez.
Among the top newcomers are right-handed pitcher Colyn O'Connell and center fielder Brandon Vicens.
Stellar Comeback
O'Connell, a 6-5, 220-pounder, was drafted in the 19th round of the 2012 MLB Draft by the Cleveland Indians. He played for Dunedin High at the time.
He played junior college ball at Polk State as a freshman but then had ligament reconstructive surgery on his right arm. Sitting out last season while he rehabilitated, he's now throwing harder than ever at 92 to 95 miles per hour.
"That didn't just happen on its own," said O'Connell, who recently signed a scholarship to play next year at Florida Atlantic University. "It took a lot of hard work."
Vicens, a freshman from Plantation American Heritage, is another talented player. He was drafted in the 35th round by the Cincinnati Reds last year, but he turned it down to come to MDC. He joins a potent Sharks lineup.
Reflecting on the team's potential, Palenzuela said, "Last year, Coach Price let us grow our beards as long as we kept winning. This year, I hope we can all grow our beards as long as Santa Claus."
— WV
More Making Their Mark Articles