---
Making Their Mark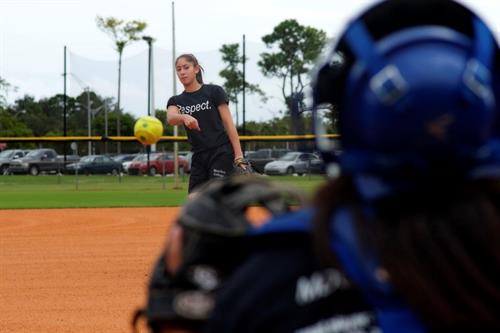 A Pitcher-Perfect Season
Miami Dade College's softball team has the reigning National Junior College Athletic Association Pitcher of the Year in Milena Calixto, a sophomore from Brazil.
Calixto, who is studying accounting, has earned a scholarship to play the 2016 season for the University of Central Florida, where the coaches were impressed with her fastball.
"Sometimes her fastball hurts my hand," said sophomore Amber Plaza, who serves as Calixto's catcher. "I have to wrap my hand with gauze or tape or use a batting glove to soften the blow."
The 5-foot-9 pitcher derives a lot of power in her motion and can hit 64 miles per hour on the radar gun.
Force to Be Reckoned With
Plaza said she enjoys games with Calixto, but hitters who face her pitches don't share that same enthusiasm. Last season, Calixto had a 20-8 record with an outstanding 1.05 ERA and 165 strikeouts in 186 innings.
Perhaps most amazing is her control – she issued just 19 walks throughout all of last season.
When she's not on the pitcher's mound, Calixto plays first base, hitting .315 last season with four homers, nine doubles, 22 RBIs and a .483 slugging percentage.
Ready for More
"She played every single inning for us last season, which is impressive because we often play two or even three games a day," MDC Coach Gina De Aguero said. "She never says anything hurts. She's a workhorse."
MDC, which won a national championship in 2010, is hoping Calixto's pitches continue to baffle hitters, leading the Sharks to more glory.
"I think we can go a long way this year," said Calixto, who maintains an impressive 3.3 GPA while balancing her studies with success on the field. "We have more depth than last year, so we hope to have a great season."
— WV
More Making Their Mark Articles