---
MDC News Bytes
Connecting Communities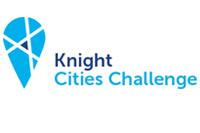 MDC's SmartPARCS at North community park system is among 10 finalists for the John S and James L. Knight Foundation's Knight Cities Challenge.
To create a bridge across the digital divide and unite campuses with communities, Miami Dade College recently proposed SmartPARCS @ North, a community park system that would improve Internet access in underserved communities. The innovative idea captured the attention of judges who named it among the 10 Miami finalists in the inaugural Knight Cities Challenge.
Short for Smart Public Access Resource Centers, SmartPARCs would be WiFi-enabled places at MDC's North Campus powered by tech-enhanced terrazzo tiles that provide Internet access through a beautifully artistic arrangement suitable for use on walking paths and bench seating. SmartPARCs would act as hubs of social engagement between campuses and broader communities, linking people through technology. 
The Knight Cities Challenge, a new contest created and sponsored by the John S. and James L. Knight Foundation, had more than 7,000 submissions across the nation in 26 different communities. The Challenge is part of a three-year, $15 million commitment with the mission of seeking creative ideas from innovators who will transform the future of U.S. cities, making them more vibrant places to live and work. 
More MDC News Bytes Articles