---
Cultural Spotlight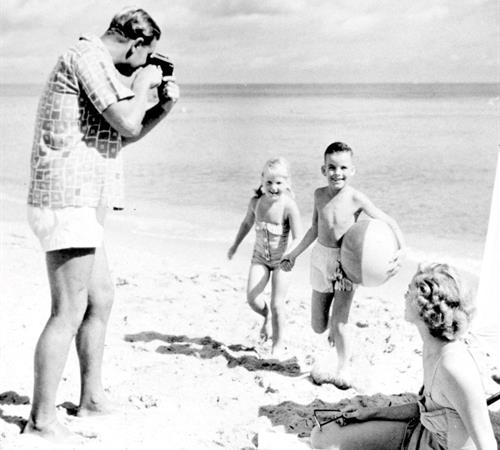 Heating Up SoBe's Arts Scene
Bringing nostalgic glimpses of history to life at the New World Center in Miami Beach, the New World Symphony recently presented the world premiere of El Sol Caliente, a new film-symphony featuring unique footage from the collections of the Lynn and Louis Wolfson II Florida Moving Image Archives at Miami Dade College.
New digital transfers of several thousand feet of film, including home movies and vintage news footage, were prepared for the project. Filmmaker Bill Morrison, whose film Decasia was named to the Library of Congress' National Film Registry, used the images to create a film to accompany composer Michael Gordon's music.
"We've gone back to the original film for this project, cleaned it and transferred it," said Wolfson Archives Director René Ramos. "The new transfers are really astonishing."
Millions of feet of historic film and thousands of hours of vintage video in the Wolfson Archives' collections are getting the same treatment as the Archives works to digitize all of its film and video holdings. Newly digitized film and video is appearing on the Archives' YouTube channel and in public screenings, as well as at public events such as El Sol Caliente.
The New World Symphony has described El Sol Caliente as "a salute to Miami Beach, past and present, in honor of its centennial."
Michael Tilson Thomas, acclaimed founder and artistic director of the New World Symphony, conducted El Sol Caliente, which shared the program with two other new works, Three Songs from SCKBSTD featuring Grammy Award winner Bruce Hornsby and Dispatches by Ted Hearne.
More Cultural Spotlight Articles