---
Features
Notable Alumni Give Back to Community in a Big Way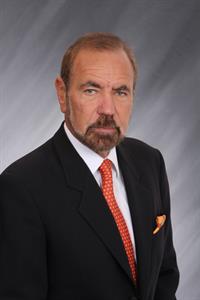 Alumnus Jorge Pérez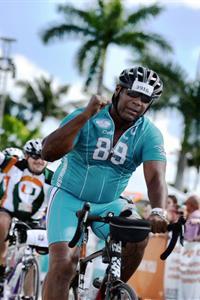 MDC alumnus Nat Moore recently participated in the Dolphins Cycling Challenge, which raised $3.5 million to fight cancer.
MDC alumnus Jorge M. Pérez – founder, chairman and CEO of The Related Group – is one of the nation's most ardent arts supporters.

He pledged $40 million to the Pérez Art Museum Miami in a combination of cash and works from his renowned collection of Latin American art that helped fund construction of a stunning new structure for the museum. Pérez also jointly funded a $1 million museum grant with the John S. and  James L. Knight Foundation to buy new works for the collection, which includes cutting-edge artists such as Olafur Eliasson and Kehinde Wiley.
Born in Buenos Aires, Argentina, to Cuban parents, Pérez went to high school in Bogotá, Colombia. When he arrived in Miami at age 18 by himself with few resources, he went straight to MDC's Kendall Campus and eventually built one of the largest, most prestigious development companies in the nation.
"MDC was very important to me," said Pérez, who is a member of the MDC Alumni Hall of Fame. "I had just come from South America and did not know anyone in this country.
"Miami Dade College was not only a place of learning but also a place of adaptation. It was fantastic – I had great teachers who exposed me to the American way of life. I took a variety of courses that later led to economics and law and literature. MDC also helped me apply to other schools, where I got full scholarships."
After MDC, Pérez graduated summa cum laude from C.W. Post College. He went on to earn a master's degree, with highest honors, in urban planning from the University of Michigan.
With a passion for building vibrant urban communities, Pérez has been on the cover of Forbes twice, and Time Magazine named him one of the 25 most influential Hispanics in the U.S.
In addition to his arts-related giving, Pérez in 2012 joined founders Warren Buffett and Bill Gates in signing the Giving Pledge, promising to donate at least half his wealth to philanthropy.
"I'm one of those lucky ones who started with nothing and got a lot of great opportunities," said Pérez, the first Hispanic to sign the Giving Pledge. "To those of us who have received a helping hand along the way, I believe we have a moral obligation to give back. For me, giving is a great pleasure."
Investing in Kids to Make Florida Better
Nat Moore, the Miami Dolphins' senior vice president in charge of alumni relations, said recently that he loved his experience as a 1970s-era student at MDC's Kendall Campus.
After graduating from Miami's Edison High, Moore went to the University of Tennessee at Martin on a football scholarship. But he didn't like the school or the small-town environment, so he transferred to MDC, which doesn't have a football program.
No worries, though, Moore played basketball for a season at MDC, then landed a football scholarship as a running back at the University of Florida. From there, he went on to play wide receiver for the Dolphins.
Moore played all 12 years of his NFL career with the Dolphins, becoming a first-team All-Pro in 1977. Despite all of his success, he's never forgotten the impact MDC had on his life.
"I would recommend MDC to every kid who wants to succeed," Moore said. "MDC is where a lot of leaders were born and bred."
These days, Moore, 63, keeps extremely busy with his philanthropy. He runs the Nat Moore Foundation, raising funds to help disadvantaged youth earn scholarship money for college.
For his many contributions to society, Moore was named NFL Man of the Year in 1984. Later in 1986, he was presented with the Byron White Humanitarian Award.
"I'm a product of the value of scholarships," Moore said. "I think investing in kids makes South Florida a better place to live."
Moore said his Foundation gets up to 600 applications a year.
"We don't pay for everything," Moore said, "but we try to give enough stipends to help kids stay in school. Depending on how much money we raise, we help from five to 20 students a year."
Investing Generous Souls
Miami Dade College contributes so much to the community that it's natural for that spirit of giving to develop in its alumni. Among those making a huge difference in the lives of others are the leaders of these philanthropic groups:
Lin Arison, co-founder, National YoungArts Foundation
Micky Arison, co-founder, Micky and Madeleine Arison Family Foundation
José Garrido, president, The Garrido Foundation Inc.
Larry King, founder and president, Larry King Cardiac Foundation
Jorge Munilla, president, Munilla Family Foundation
Tony Segreto, leader in many organizations
Javier Souto, board member, The Francisco Foundation Inc.
— WV
More Features Articles