---
Making Their Mark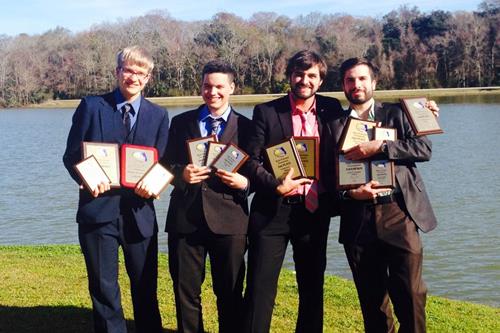 Masters at Proving Their Point
The Kendall Campus Debate Team recently won the Florida College System Activities Association State Championship held in Jacksonville.
Working under the guidance of MDC professor William Murphy, the team was judged to be the best overall debate group and also came in fourth place across all speaking events.
In addition, four MDC students won individual honors, led by Pablo Debs, who won a state championship in the Lincoln-Douglas Debate, and Virgil Capote, who finished second in the same category.
Other MDC individual award-winners were John Coolidge, who took third place in the Lincoln-Douglas Debate, and Orlando Rodríguez, who was second as a speaker in Lincoln-Douglas. While these were their highest finishes, they also won other awards in addition to these.
Skills to Beat Ivy Leaguers
Murphy said his students, as part of their debate experience, have been exposed to a variety of new ideas and have enhanced their skills as critical thinkers.
"Along with our performance in the Pan American Championships in January, this is the biggest accomplishment we've had in my four years as the coach," Murphy said. "At the Pan American Championships, we reached the quarterfinals, beating teams from around the world as well as from the Ivy League and other top schools such as Cornell."
Diverse Career Paths
Murphy said some of his students are planning on pursuing careers in law, politics or communications.
"In just about any field, you have to know how to argue your point," Murphy said. "If you can't persuade people, then you have little chance of succeeding."
Capote, a political science major who plans on becoming a lawyer and may go into politics after that, said joining Miami Dade College's debate team has helped him on a number of levels.
"It's helped me improve my relationship with my family," Capote said. "We can all create positive change in ourselves and in society by communicating and understanding one another better."
— WV
More Making Their Mark Articles