---
Making Their Mark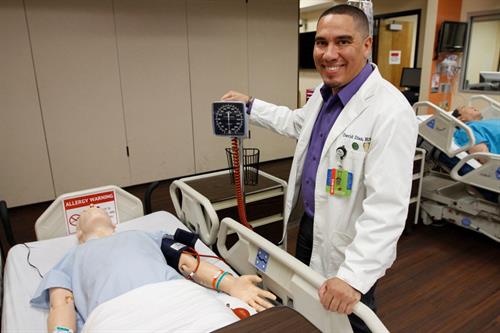 Thankful Twice Over for Choosing MDC
While living in New York City in the early 2000s, David Díaz was looking for a change. He had served in the Army and had lost some friends in 9/11 when he decided he wanted to become a nurse.
Díaz researched countless schools before coming to the firm conclusion that Miami Dade College's Benjamín León School of Nursing would be the best place to train and prepare him for his new career.
"I met with instructors, and I liked the focus they had. They were interested in me learning rather than pushing me through," Díaz said. "I wanted to be trained for something useful, and that's what MDC has done."
In 2004, Díaz earned an Associate in Science in Nursing from MDC, doing the LPN-to-RN program for those wanting to raise their career status from being licensed practical nurses to registered nurses.
Trained to Handle Stress
After graduating, Díaz worked several years as an emergency-room nurse in Saudi Arabia, in Australia and at Nicklaus Children's Hospital, formerly known as Miami Children's Hospital. But Díaz eventually realized that to get to where he wanted to go in his profession, he needed a bachelor's degree. So he started looking again for a college, and – for a second time – chose MDC.
This May, Díaz will graduate from MDC with a bachelor's in nursing, and he has already earned several marks of distinction.
Convention Presentations 
Díaz recently presented papers at the Haitian American Nurses Association 2014 Convention, which was held at MDC's Wolfson Campus, and also at the 2014 Baptist Research Convention.
Currently serving as a nurse manager of two Nicklaus Children's Hospital urgent-care centers, he said he owes a lot to MDC.
"Their program is outstanding," said Díaz, 38. "You are trained by nurses who hold their doctorates and are always ready to impart their knowledge. Most of the MDC professors have over 15 years of experience in the field."
More Making Their Mark Articles