---
Making Their Mark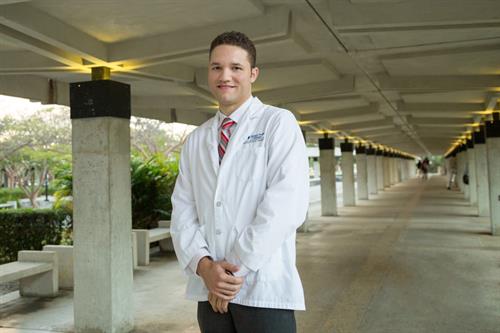 The Quick Road to Success
What Rafael Piloto Careaga has accomplished in the seven years since he arrived from Cuba is quite remarkable, and he credits MDC's Benjamín León School of Nursing for much of his success.

Piloto Careaga, who did not speak any English when he came to Miami, is now fluent in the language. He became a nurse in 2012, earning an

Associate in Science in Nursing from MDC.

Recently, he earned a second degree from MDC, getting a bachelor's and virtually simultaneously landing a job as a case manager with León Medical Centers in Miami.
An Impressive Feat
"That's very unusual to graduate and right away get an administrative position," said Dr. Guillermo Valdés, one of Piloto Careaga's most influential professors at MDC. "Rafael was a stellar student, respectful and very centered on achievement. He was a student that any professor would be proud to educate."
Piloto Careaga said he originally wanted to study engineering but changed his career path to nursing because his family was going through some economic hardships.
"But then I really started to like nursing," he said. "I discovered that I could really make a difference."
Saving Lives
As a case manager, Piloto Careaga now is specializing in coordinating kidney transplants, among other duties.
It is life-saving work, and Piloto Careaga, 27, said he owes a lot of his success to Miami Dade College as well as his parents, Rafael Piloto Rodríguez and Avelina M. Careaga.
"I would not be here without a lot of great people supporting me," he said. "Dr. Valdés has been the most important professor for me.
"The job I have now usually requires a few years of experience. But MDC prepared me so well that I had all the right background needed. The professors taught me how to succeed in my professional life."
— WV
More Making Their Mark Articles