---
Making Their Mark
It All Added Up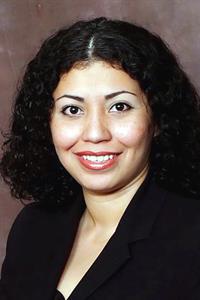 Mildred Avila
Former Miami Dade College student Mildred Avila has worked her way up from accountant at her previous company to controller at Benworth Capital Partners – and she loves the challenge.
"I started out working in the bookkeeping area," said Avila, who did financial statements at a company called HomeEquity. "Now at Benworth, I not only oversee bookkeeping but also transactions with borrowers. Actually, I'm involved in all facets of the work, from marketing to planning new ventures. It's rewarding to  participate in everything that goes on in the company."
Avila was born in the Mexican city of Mérida. She was 9 years old when she and her family moved to Hialeah. After high school, she studied accounting at MDC's North Campus.
"Miami Dade College was great," Avila said. "It was close to home, and it gave me great flexibility in terms of my schedule.
"You have to pave the way and get the knowledge, and I feel like I got a great education at MDC. It prepared me for the next stage of my life. It was a great starting point for my career."
— WV
More Making Their Mark Articles