---
Making Their Mark
The Perfect Balance of Key Ingredients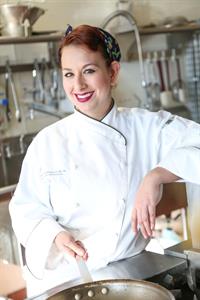 Michelle Saavedra
Call it fate, call it destiny or call it what it truly is – talent seizing upon an excellent opportunity. Michelle Saavedra was set on the perfect pathway to succeed when she took the skills she developed at MDC's Miami Culinary Institute (MCI) to create her own catering company.
Saavedra, a 31-year-old native of Miami, is a woman of many talents. She has dabbled in art and worked as a medical assistant. But her true passion – and her calling – is cooking, and the faculty at MCI realized that from the start.
Personalized Mentoring
"My professors were great mentors who were adamant about my skills and spent lots of time coaching me," Saavedra said.
And for her part, Saavedra was a quick study, quickly mastering everything they taught her. Her first job in the industry, in 2012, was in upper management as a sous chef running the show at a small downtown café, Bryan In The Kitchen.
She is now one of just two chefs de cuisine at Eating House, a gourmet restaurant in Coral Gables. That job, in essence, makes her head chef for the lunch crowd.
Saavedra describes the restaurant as "funky fusion, new Americana, a little of the old mixed with the new."
A Growing Fan Base
Online reviews heap praise on Eating House and, by extension, Saavedra, calling it a "neighborhood gem with a lively vibe." The reviews use words such as "eclectic" and "trend-setting cuisine."
Saavedra, who has won cooking contests, credits MCI Professor José Casals with honing her competitive nature, and she appreciates how MCI Chair Collen Engle helped her to develop an intense work ethic.
"I'm the first one in and the last one out," Saavedra said. "Sometimes you go a week straight with no days off, working 10- to 12-hour days. Every day, I go in two hours early on my accord.
"To do this job, you have to be passionate. I'm really content to be where I'm at and to be this successful for someone who has been in the industry such a short time."
— WV
More Making Their Mark Articles