---
MDC News Bytes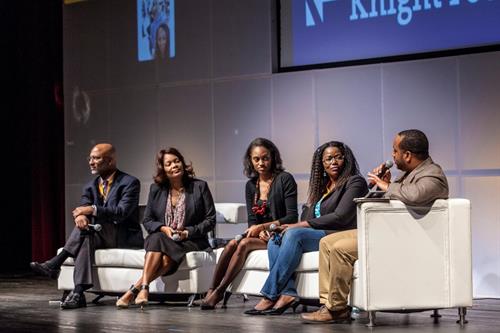 Cracking the Code to Success
Faculty and students recently had a unique opportunity to rub elbows with several well-known innovators during the inaugural Black Tech Week at Miami Dade College.
North Campus hosted the important convergence of black technology innovators, entrepreneurs and investors with several informative sessions provided throughout the week.
The driving force behind Black Tech Week is Miami-based organization Code Fever, a group dedicated to teaching minority youth how to code, create technologies and become entrepreneurs.
Encouraged to Create and Innovate
Events included programming that celebrated minority innovators, tech innovation and diversity around the globe. The conference also served as a platform to develop black entrepreneurship and encourage consumers of social media and technology to become creators.
Notable successful innovators also were in attendance, imparting their wisdom and business knowledge to enthusiastic attendees. Chinedu Echeruo, a prominent developer who founded and sold his company HopStop to Apple for $1 billion, led a discussion, as well as Appfrica founder Jon Gosier, named one of the 25 most influential African-Americans in technology by Business Insider.
More MDC News Bytes Articles