---
Powerful Partnerships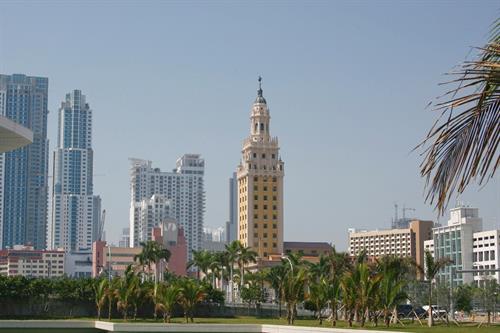 Communication Station
Having served for decades as a beacon of freedom and hope in Miami's skyline, the National Historic Landmark Freedom Tower at Miami Dade College now also will aid the citizens of this country by serving as a venue for communicating the nation's foreign policy for the U.S. Department of State. The State Department's Media Hub of the Americas will use the Freedom Tower to conduct a variety of activities, including interviews, meetings and other official business. The Media Hub also will serve as an ideal location for visiting U.S. diplomats to engage the Spanish-language media in Latin America.
Hosting discussions in this historic and symbolic facility will reinforce U.S. commitment to freedom and democracy. Often referred to as the "Ellis Island of the South," the Freedom Tower serves as a reminder of the values this country embodies. No other building in the region represents the country and its collective sense of hope for the future like the Tower does.
The Media Hub of the Americas began operations on Jan. 28, following a signing ceremony between Miami Dade College President Dr. Eduardo J. Padrón and State Department Principal Deputy Assistant Secretary Valerie Fowler.
Known as "Democracy's College," MDC is a frequent stop for presidents and former secretaries of state. The new partnership will bring the College and the federal department even closer for the benefit of students, government and the entire South Florida community.
More Powerful Partnerships Articles