---
Powerful Partnerships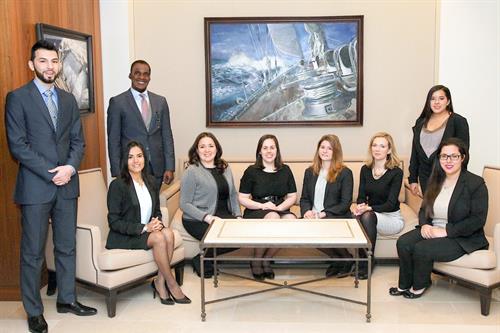 MDC Teams With Libra Group for Exciting Internships
In a new partnership between Miami Dade College and the Libra Group, five high-achieving MDC students are participating this spring in exciting internships around the globe to further their professional development. More interns will follow in the summer as the program expands at MDC.
"The work I have done this semester has been amazing," said Libra intern René Araujo Herrera, who is graduating from MDC in May with a Bachelor of Applied Science in Supervision and Management. "I've been able to apply the lessons I've learned in my finance classes while working on real estate proposals for the acquistions department of the company where I'm interning. I've been impressed with all the knowledge I've been able to acquire in such a short amount of time."
Araujo's experience is typical of those who participate in the program.
Learning About the Global Marketplace
"Libra internships are a great opportunity for students to experience how a diversified business operates in a global market," said Jorge Guerra, executive director of MDC's Workforce Education & Partnerships.
The Libra Group controls 30 subsidiaries operating across five continents. Through this opportunity, students get to work in key international locations, such as London, New York, Buenos Aires, Beijing and Athens. Libra funds travel and living expenses of participating students, who receive valuable in-workplace training while developing confidence and core skills to broaden their career horizons.
"The interns are mentored and coached to develop the skills necessary to become successful leaders in their chosen field," said Guerra.
And they, in turn, mentor those who follow them in the program. Impressed with what she had learned, Araujo encouraged MDC student Roudeline Prophete to apply for the program.
"I am studying both culinary arts management and hospitality and tourism at MDC," Prophete said. "This summer, I'll be working in Connecticut, where I'll get to put all the classroom theories into practice."
New Contacts
The internships also build a new network of professional contacts throughout Libra's five core sectors, which include shipping, aviation, real estate, hospitality and renewable energy. In addition, the student interns learn about Libra's diversified investments portfolio that offers job prospects in finance, marketing, legal, human resources, IT and more.
The international business group, wholly owned by the Logothetis family, is committed to an array of social responsibility and educational initiatives, which include the Libra Internship Program and a number of fellowships throughout the world. Applicants for this highly competitive internship included students from Miami Dade College's School of Business and School of Engineering and Technology, along with its renowned Miami Culinary Institute.
More Powerful Partnerships Articles