---
Powerful Partnerships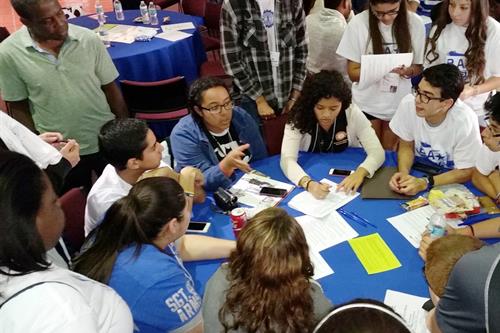 Peace Conference Builds on Wisdom of Peer Mentoring
Miami Dade College is renowned for its stellar track record in preparing students of all ages and backgrounds for the rigors of higher education. So it's no surprise that the Rotary Club of Miami chose MDC as the site for its third annual Peace Conference designed to help high school students develop strategies for peaceful solutions to difficult situations that can disrupt learning.
Using the solid foundation of peer collaboration, the recent conference paired college students with high school teenagers from public schools for discussion of complex topics, including violence and bullying.
Each One Teach One
"The interactive process between the students created a special mentoring relationship," said Randy Lichtman, a program manager with MDC's School of Continuing Education and Professional Development who also serves as chairman of vocational service for the Rotary Club of Miami.
"Through our focus on youth-service programs, our goal is to develop future leaders who can bring peace to their schools and later to the community. As an added benefit, the conference presents an opportunity for high school students to learn about the college experience."
Diane Landsberg, president of the Rotary Club of Miami, said the three annual conferences thus far have given more than 300 high school and college students the tools they need to deal more effectively and peacefully with situations that require conflict resolution.
Ideas Strengthened by Deeds
Students who participated in the conference at Wolfson Campus explored the issues and  formed action plans to improve security measures at their schools.
"Through this Peace Conference, MDC and the Rotary Club worked together to take action against violence," said Norby Rudel, the event's host and program director.
Many people contributed to the event's success. MDC Professor Susan Lichtman introduced guest speaker Joseph Zolobczuk, director of education and research for the YES Institute in Coral Gables, which works to prevent suicide and ensure the healthy development of all youth through communication and education on gender and orientation. Also offering insights to the students was Jowharah Sanders, director of National Voices for Equality, Education and Enlightenment. 
"The goal was to get inner-city high school students talking about issues that can lead to violence, such as cyber bullying, racism and gender bias, and then, to find peaceful solutions that can help them at home, in their schools and in their communities," Rudel said.
More Powerful Partnerships Articles