---
Academics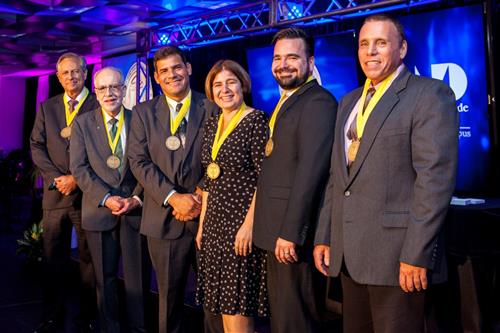 MDC Research Scientists Lauded
Celebrating outstanding research accomplishments of its faculty, Miami Dade College's School of Science hosted the Distinguished Science Research Awards Program at North Campus.
The ceremony highlighted the scholarly role of the professors in conducting advanced scientific research as well as serving as mentors to undergraduate students.
This year's ceremony recognized faculty who are both continuing earlier research endeavors and starting new projects in diverse fields, including age-related macular degeneration, the effects of solvents on the carbonyl signal and the genetic variations of palm species.
Faculty members honored at the event included:
Dr. José Calavia, Dr. Soumia Souchak and Dr. Jorge Gibert for physics work
Dr. Carlos Fernández, for chemistry research
Dr. Steven Ritter and Professor Alfredo León, for biology research
Each of the honorees received a medal depicting Da Vinci's Vitruvian Man as a symbol of humankind's quest for understanding of the universe through science. During the award ceremony, student researchers talked about their experiences participating in the diverse projects.
— NN
More Academics Articles