---
Cultural Spotlight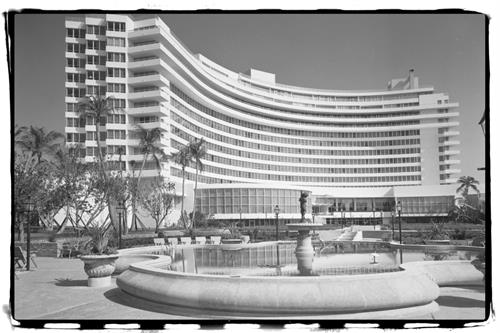 Fontainebleau's Past Comes to Life Through Film
The Fontainebleau Hotel made its breathtaking debut in 1954 with its beautiful Miami Modern architectural design, stunning waterfront views and sweeping staircases for movie-star entrances. In homage to Miami Beach's centennial celebrations, Miami Dade College recently celebrated the lavish hotel's fascinating past as a film location and icon of luxury through the vintage video The Fontainebleau on Film. Presented by the Lynn and Louis Wolfson II Florida Moving Image Archives at MDC, the talk, highlighted with film clips, included questions and answers along with an informal discussion that was free and open to the public.
The Fontainebleau's theatrical fantasy, created by architect Morris Lapidus, attracted filmmakers from the start. For the presentation, film critic and history buff Kevin Wynn used unique clips from the Wolfson Archives and excerpts from feature films to trace the Fontainebleau's film history, an arc that also reveals the hotel's rise and fall as a symbol of glamour and excitement.
The event, offered during Dade Heritage Days, was a collaborative effort of the Wolfson Archives and Dade Heritage Trust.
Wynn presented unique film and video from the Wolfson Archives documenting the Fontainebleau's construction and opening, its popularity with celebrities and tourists and the context of its creation.
More Cultural Spotlight Articles