---
Cultural Spotlight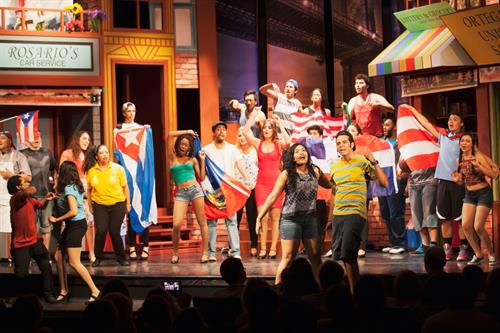 Rising to New Heights
In Lin-Manuel Miranda's Tony Award-winning musical In the Heights, life has not been very fair to Nina. She returns home having dropped out of Stanford because her scholarship did not cover all her expenses, so while working two jobs to get by, her grades suffered. Once the star of her community, earning straight A's and every imaginable award, she's embarrassed at her failure. But she doesn't give up. The former high achiever resolves to return to Stanford and complete her studies.
In recent performances of Miranda's work by Wolfson Campus' Opera/Musical Theatre Ensemble, the talented student playing Nina had been through the same life story. Achieving great success in high school, Julia Núñez had returned from college out West, humbled by a tough year.
"Julia made that immediate and very strong connection to the role and gave an outstanding performance, which was recognized by the adjudicators of the Kennedy Center/American College Theater Festival," said Joshua Braun, the MDC theater professor who directed the musical. "They were so impressed with Julia's work that they nominated her for the Irene Ryan Acting Scholarship."
Efren Vanegas, in the role of Usnavi, and Diana Buitrago, who portrayed Abuela Claudia, also were recognized for their talents by the adjudicators of this premier national organization for theater in higher education.
"They really did a remarkable job," Braun said.
More Cultural Spotlight Articles