---
Features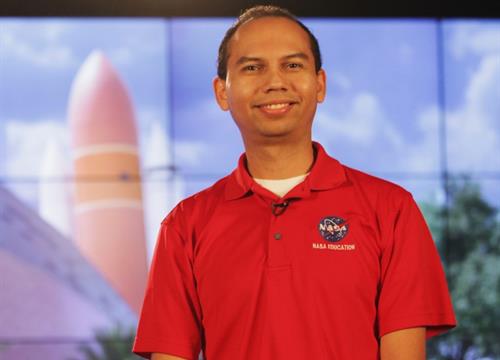 Helping the Next Generation Reach for the Stars
Dr. Lester Morales didn't always work for the NASA Kennedy Space Center as professional development specialist for the education program. At one point, he was an MDC student just like tens of thousands today who are struggling with finances and balancing a job with school.
Morales wanted to be a doctor back then, and MDC gave him the foundation he needed to eventually get through medical school.
"Two of my more memorable MDC professors taught calculus and chemistry," he said. "They knew what I wanted to do, and if they saw any sign of a problem, they said: 'Let's work on this.' "
Those demanding professors would ask him to come to class an hour early or stay late – just so they could tutor him.
"In chemistry, you have to be extremely precise, and that lesson stayed with me all through medical school," Morales said.
Leading by Example
Recently, Morales, 38, shared his story with students and faculty at InterAmerican Campus. During his visit, he was impressed by MDC's current students, and especially by a young immigrant from Venezuela struggling to find his way in a new country.
"I'm going to take it upon myself to find something for that student," Morales said.
Cost-Prohibitive Dreams
A couple of decades ago, it was Morales who needed help, and MDC that gave him his start.
Born in Nicaragua, Morales came to Miami with his family when he was 10. An exemplary student graduating with honors from Miami High, he could have gone to just about any university in the country. But since he was not a legal resident, the cost would have been prohibitive.
"As an international student, tuition would've been five times higher," he said. "We couldn't afford it."
Morales' mother paid the first year of his MDC tuition with money she had worked for three years to save. He also worked at Kentucky Fried Chicken until his legal paperwork came through.
Then it was goodbye KFC and hello to a series of impressive academic accomplishments, including medical school and a two-year training program in London.
After graduation, Morales, who had wanted to save lives as a doctor, decided instead to influence lives as a teacher.
He got a job at John F. Kennedy Middle School's bio-medical magnet program, teaching science, anatomy, algebra, geometry and physiology. That led to his current position at NASA, and he is now coming full circle to his early days at MDC, with his interest in mentoring others.
"I had excellent professors at Miami Dade College," Morales said. "They saw I had the interest and the tenacity to excel, and I've seen that in the current students."
— WV
More Features Articles