---
Making Their Mark
Passing Along Good Will Found at MDC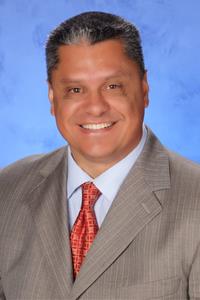 Guillermo Muñoz
Guillermo Muñoz, an MDC alumnus from the Class of 1989, was recently named Principal of the Year for Miami-Dade County Public Schools – a prestigious honor, to say the least.
Muñoz, the principal at Homestead High since July 2013, said he believes the award was a nod to a career spent helping turn around a series of underperforming schools saddled with low student and teacher morale.
"The students are always my No. 1 priority," Muñoz said. "And I have demonstrated that through my actions."
Originally from Nicaragua, Muñoz and his family moved to Miami when he was 10. After graduating from Miami High, Muñoz came to MDC's Wolfson Campus, where he said his life took on a new, positive outlook that has lasted to this day.
Muñoz was a first baseman in baseball, but when no college offered him a scholarship, he came to MDC as a "walk-on," which meant his spot on the roster was not assured.
In the Mind's Eye
"I was very fortunate to have met Steve Hertz," Muñoz said of the MDC baseball coach at that time. "He gave me a chance, and he taught me about positive thinking and visualization, and that has played a role in everything I've done in my life since then."
Muñoz became a starter as an MDC freshman and went on to earn an associate degree with a focus in education.
After two years at MDC, he earned a scholarship to play baseball at Nova Southeastern University, where he eventually earned two degrees: a bachelor's in education and a master's in educational leadership.
Merging Cliques
He later went on to become the principal at Northwestern and Westland Hialeah high schools as well as Brownsville Middle. Once he arrived at Homestead, he decorated the hallways with photos of high-achieving students. He also helped unite kids stuck in cliques by having them work together to read to elementary-school kids.
While Muñoz has much more left that he aims to accomplish, at 46, he has already had a stellar career, and his professors and coaches at MDC are surely bursting with pride to have helped him along the way.
"MDC was a great start for me," Muñoz said. "I would recommend it for anybody who wants a quality education."
The Education Boost
Many of MDC's top alumni are helping to raise the bar in education, including:
Dr. Lawrence G. Abele, provost and executive vice president of academic affairs, Florida State University
Ana L. Cordal, principal, Renaissance Elementary and Middle Charter School 
Lourdes P. Giménez, administrative director, Miami-Dade County Public Schools, Central Region
Dr. Gerardo M. González, university dean, School of Education, Indiana University
Dr. Carlota E. Morales, principal, Sts. Peter and Paul Catholic School
Douglas P. Rodríguez, principal, Doral Academy Charter Middle School
— WV
More Making Their Mark Articles