---
Making Their Mark
The Perfect Place to Fall in Love With Teaching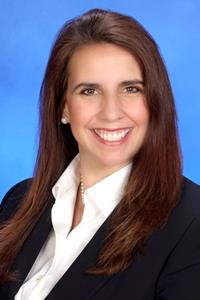 Nicole Berge-MacInnes
You never know when that light bulb of inspiration may turn on. For Nicole Berge-MacInnes, it happened in her mid-20s when she was a part-time MDC student and a friend asked her to tutor a couple of special-needs students. As soon as Berge-MacInnes began the task, she immediately knew she had found her calling.
"I fell in love with the craft of teaching," she said. "After that, I became a completely committed college student."
Berge-MacInnes, a native of Miami, has always been a high achiever. She even had opened her own computer-supply store at age 19.
But this newfound passion for teaching was different. After graduating from MDC in 1992, Berge-MacInnes went on to earn a bachelor's degree in special education.
"The program at MDC was a catalyst for my love of special education and educational leadership," Berge-MacInnes said.
She began working as a special-education teacher at Coral Gables High in 1995, and she was an immediate hit, winning the "Rookie of the Year" award for the state of Florida.
Berge-MacInnes stayed at Gables High for 15 years before becoming assistant principal at Glades Middle School.
She is now in the same position at Coral Reef High and recently received the prestigious honor of being named Assistant Principal of the Year by Miami-Dade County Public Schools.
Her main role at Coral Reef focuses on the curriculum of the award-winning magnet school.
"But my true love is special education," she said. "We have 60 students with autism at Coral Reef, and the best part of my day is when I visit with those kids. They pair up with our other students and become buddies, and it's wonderful to see."
— WV
More Making Their Mark Articles