---
Making Their Mark
Entering the Winner's Circle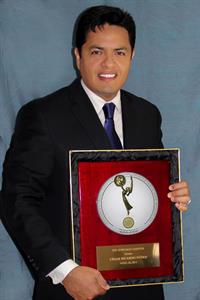 MDC alumnus César Núñez recently won the National Academy of Television Arts and Science Suncoast Chapter's Silver Circle Award.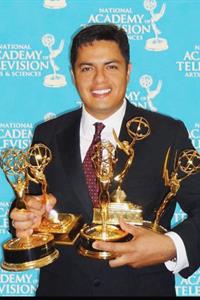 César Nuñez has won five Emmy's among 14 nominations for his work in television.
César Núñez, who recently won the National Academy of Television Arts and Sciences Suncoast Chapter's Silver Circle Award, is an MDC graduate who has showed remarkable perseverance in earning his degree.
The youngest of seven siblings born in Honduras, Núñez moved to Miami at age 15 with his mother. Only one day after arriving and despite not knowing English, he enrolled at Miami Springs High School and already had a job washing dishes at a restaurant.
Pretty soon, he was holding down two additional jobs – serving as a bag boy at Publix and working in valet parking – all while still attending high school.
Steadfast Determination
"I've always been a hard worker," Núñez said. "We were very poor in Honduras. When we had nothing to eat, I decided to find soda bottles and sell them. I took that money and bought and sold oranges."
Núñez's life changed in Miami when he got hired by Dynamic Cablevision. It was an entry-level job working with tapes, but he soon began putting together graphics for the station's newscasts. Then when an editor quit, he was asked to fill in on an emergency basis.
He was only 17 at the time, and his ­career took off from there.
At age 18, he was hired as a reporter for a Honduran network. That led to jobs at Univisión and Miami's CBS affiliate as a cameraman and reporter. As part of his job, Núñez covered the famed Elián González story and traveled to nearly every country in Latin America.
Slow, Steady Progress
He enrolled at MDC in 1990, but since he was on the road so often covering stories, he did not complete his studies in mass communications until 2009.
"It was tough," Núñez said. "We didn't have online classes in my field when I started at MDC. It took me a while to finish my degree, but I never stopped going.
"The great thing about MDC professors is they were flexible. They knew I was working. They saw my credentials. They understood."
Núñez, who has won five Emmys among 14 nominations for his work on television, said he always felt very comfortable at MDC.
"I'm proud to be an MDC alumnus," he said. "I'm living proof that it's never too late to get ­educated."
— WV
More Making Their Mark Articles