---
Making Their Mark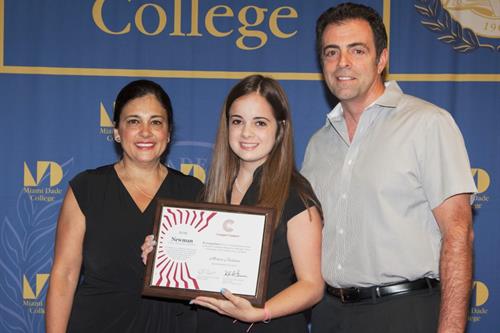 Lifelong Commitment to Justice
Fighting for causes she believes in comes easily to Monica Bustinza, who graduated this spring from MDC's Honors College at Wolfson Campus.
"I am a passionate activist working relentlessly to make a positive impact in my community as well as the world," said Bustinza, who was recently named a Campus Compact 2015 Newman Civic Fellow. The prestigious award honors inspiring college student leaders who demonstrate an investment in finding solutions for challenges facing communities nationwide.
Bustinza is among an elite handful of students selected nationally for the Newman Civic Fellow Award.
One of a Kind
"Monica is one of the most selfless, humble, compassionate and dedicated servant leaders I've ever met," said Joshua Young, director for MDC's Institute for Civic Engagement and Democracy. "She has inspired so many through her service and leadership, and she is a role model for us all. I cannot think of anyone more deserving of this award than Monica, and I know hers is a lifelong commitment to work for justice and betterment of the world."
Born and raised in Miami to Cuban parents, Bustinza has completed more than 1,000 hours of service and has won countless awards. After enrolling at MDC, and with the guidance of faculty and staff, she realized she wanted to better understand the root cause of social issues. To accomplish this, she served as president of the Human Rights Alliance and outreach director of Phi Theta Kappa, interned with the Department of Housing and Urban Development's Office of Fair Housing and Equal Opportunity to help investigate cases of housing discrimination and was selected as a Campus Election Engagement Project Student Fellow, where she educated peers about the ballot and helped register them to vote. Bustinza regularly speaks at MDC and nationally in an effort to inspire the next generation of change makers.
"I am working to create social change by motivating youth to identify the social justice issues they are passionate about," Bustinza said. "By using their convictions, talents and energy, they also can become agents of change."
Catalyst for Change
Bustinza discovered her call to activism at age 16 when she noticed that the children in her mother's elementary classroom didn't know where their next meal was coming from. Her family challenged her to do something with that sense of injustice. So Monica took action and created Meals from the Heart, which she continues to work with today. The organization to date has delivered more than 4,000 meal bags to 2,000 families.
Speaking at a recent MDC board of trustees meeting, Bustinza summed up her experience here at the College.
"MDC has given me the tools I need to be a catalyst for innovation and improvement, and the skills necessary to create powerful solutions," she said. "I would not be the person I am today without all the opportunities and guidance I've received here. I am a product of your work. Thank you."
More Making Their Mark Articles