---
Academics
The Drone Zone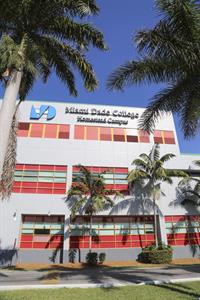 The drone training program at Miami Dade College was created by MDC adjunct professor Dr. Orlando Villaverde and Tom Jargiello, director of the School of Aviation at Homestead Campus.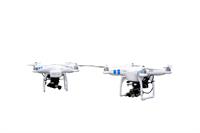 Miami Dade College is at the forefront of drone technology and training.
Miami Dade College, which this summer began teaching a course for future drone pilots, is at the forefront of this exciting new technology.
With the help of a federal grant, MDC recently bought drones for educational use. The College is creating a number of for-credit courses on drones and ultimately hopes to develop a certificate program by the fall of 2016.
"We are one of the first colleges to enter this field," said adjunct professor Dr. Orlando Villaverde, who created the program along with MDC colleague Tom Jargiello, director of the School of Aviation at Homestead Campus.
"The biggest obstacle so far is that manufacturers do not have an operating handbook that gives pilots full aeronautical knowledge of the equipment," Villaverde said. "And 90 percent of drone operators are nonpilots. Now they are discovering that they need more training."
Drones, guided by an onboard computer or remote control, already are in use in more than 50 countries.
In April, the Federal Aviation Administration gave several insurance companies the right to use drones to assess property damage. The unmanned aerial vehicles were put to work in the aftermath of the Nepal earthquake, and the American Red Cross plans to use them for disaster relief.
In addition, Amazon and the U.S. Postal Service are investigating the viability of delivery drones.
Worldwide, the sale of private drones could reach $130 million this year, for an increase of 55 percent. Projections put the industry at $75 billion within a decade.
With all this rapid rise in drone usage, Villaverde and Jargiello believe teaching MDC's courses on safely piloting drones will be a major service to students and the community.
"MDC decided that we need to take the initiative to be leaders in this industry," said Villaverde, a former flight instructor for the City of Miami police aviation detail who has a master's degree in aeronautical science.
MDC has applied for an FAA 333 exemption that allows for commercial use of drones. The courses on drone technology, regulation and commercial utilization will be held at MDC's facility at Miami Executive Airport.
"I've gotten very positive feedback from students and from companies who are looking to us for guidance," Villaverde said. "Our program is going to take off rapidly."
— WV
More Academics Articles