---
Academics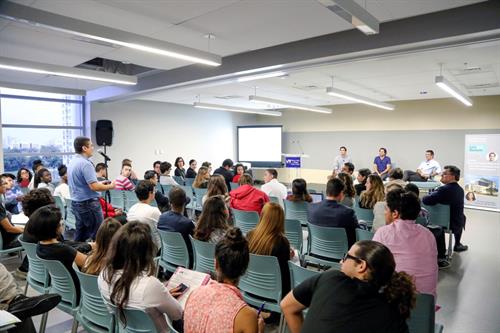 Learning How to Turn Ideas Into Dollars
Miami Dade College has launched an exciting new degree program to help students thrive in Miami's vibrant entrepreneurial ecosystem. The Associate in Science in Business Entrepreneurship provides students with the skills, mindset and network needed to start their own successful businesses or make their mark in one of South Florida's growing startups.
Through the program, students are exposed to concepts, speakers, technology and people that teach them how to recognize opportunities, convert those opportunities into economic engines, and leverage marketing tools to brand themselves, acquire customers and grow their businesses.
"Part of Miami Dade College's success lies in its ability to anticipate the region's needs, and this program will offer a symbiotic solution to the need in the South Florida for people with both entrepreneurial minds and the business skills to turn exciting ideas into profitable ventures," said Leandro Finol, executive director of MDC's Idea Center, which developed the exciting new A.S. degree and corresponding short-term College Credit Certificate.
The dynamic curriculum is complemented by an array of co-curricular initiatives offered by The Idea Center at MDC.
— AMS
More Academics Articles