---
Features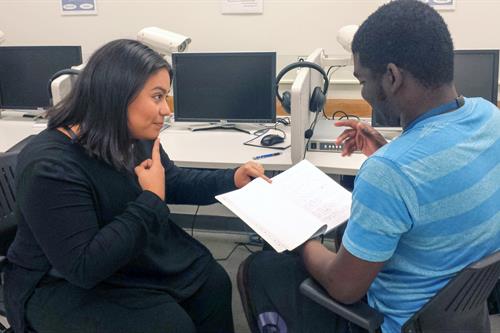 The Art of Communication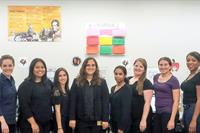 MDC students tutored students who are hearing impaired.
In the spring 18 MDC students in an American Sign Language (ASL) class at North Campus volunteered their time to provide more than 330 hours of community service at six nonprofit organizations.
"One student logged 156 hours, earning a Presidential Volunteer Award," said MDC Professor Julie Sherman, an alumna of the MDC ASL program who completed a master's degree in ASL/English Interpreting from the University of North Florida. "Some students contributed more hours to meet the needs of those with hearing impairments, which included tutoring."
Since this was the first service learning project taken on by an MDC ASL class, there were lessons for the students to learn in logistics, including how to coordinate the various schedules of the volunteers and participants.
"We have everything ironed out now for the fall, when the next group of MDC students will pitch in," Sherman said.
Besides tutoring, students raised funds, worked on event planning and proactively networked with the deaf community.
MDC has the only Sign Language Interpretation program in South Florida. Among other interpreter education programs in the state, it stands out due to its innovative programs such as the service learning project. MDC's faculty includes instructors who are hearing impaired, native users of ASL and national leaders in the field.
To learn more about ASL at MDC, contact Rafael Treviño, program coordinator, at rtrevino@mdc.edu or 305-237-1274.
More Features Articles