---
Features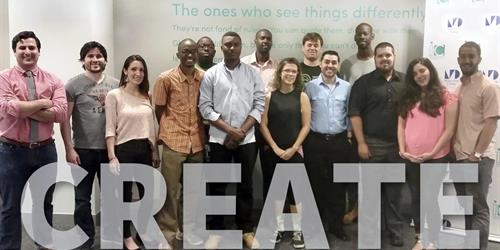 Turning Creativity Into Action
A recent showcase at the Center for Research and Transformative Entrepreneurship (CREATE), a venture accelerator program at The Idea Center at Miami Dade College, suggested a microcosm of entrepreneurial South Florida. 
The presentations by the student entrepreneurs included ideas ranging from the eminently practical to the poetic. They featured apps for learning languages, finding what to do in South Florida and managing parking, but also bibs for toddlers.
"We hear the term 'accelerator' thrown around. It's one of the buzzwords these days," said Wifredo L. Fernández, director of the center, a 16-week program open to MDC students in all disciplines. "But while we want these businesses to flourish and make millions of dollars, the point for us is that [the student entrepreneurs] have the tools, the mindset and the skills to pursue their ideas and develop their solutions."
Participants are identified by Fernández and enter the program with their business ideas at different stages and with different needs. Yida Hernández, an MDC business student who had won the Miami Foundation's Public Space Challenge to create an outdoor public music space, approached the center as "a way to better develop the project." In fact, the work with the center was instrumental in finding a new location for the project, she said.
The Idea Center at Miami Dade College is funded in part by Knight Foundation as part of its efforts to invest in South Florida's emerging innovators and entrepreneurs. This article, written by Fernando González, previously appeared on KnightBlog.org, a Web property of The Knight Foundation.
More Features Articles