---
Features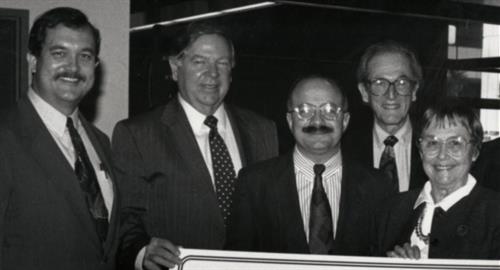 The Caregiving Vanguard
Hospice care – the practice of treating terminally ill patients with palliative care and support rather than aggressive therapies meant to prolong life at the cost of comfort – was an idea that had not yet caught on when Esther Colliflower and Hugh Westbrook founded The Hospice of Miami at MDC.
It was 1975 when Colliflower, then associate director of MDC's Life Lab, and Westbrook, an instructor there, were moved by the failings of end-of-life care at the time and decided to do something about it. Life Lab became the incubator for their project.
A Team of Caregivers and True Entrepreneurs
With the support of MDC President Dr. Eduardo Padrón, who was the dean of instruction at the time, Colliflower and Westbrook began exploring ways to improve end-of-life care and overall quality of life for terminally ill patients. They took their first patient into hospice with the philosophy that care went beyond the ill patient to extend to the family, and that the doctors, nurses, patients, family and social workers had to work together as an interdisciplinary team.
"We still needed someone to give us some clues," Colliflower said. "That first patient became the model for our  whole approach."
Westbrook added, "It was important to talk to the patient and ask 'What are your goals and what do you want to do with your life in the limited time you have?' We then responded to that patient feedback."
Fulfilling Patient's Goals
Commenting on this new outlook for care, Colliflower said, "It wasn't just about comfort, we wanted to ensure the patients fulfilled their goals. Often the desire is to be at home among family and be free of pain, but if there were other things, we tried to make that possible."
The Hospice of Miami later became Vitas, and the method and structure of hospice care that Colliflower and Westbrook created became the model for hospice care nationwide when it was selected first as the template for Florida legislation proposed by Congresswoman Carrie Meek, and later federal legislation sponsored by Sen. Robert Dole, which was signed into law by President Ronald Reagan. These laws established regulations and, just as important, reimbursement schedules so that hospice care was covered by Medicare, which made hospice available to more patients for whom it was the right option.
"Miami Dade College and Dr. Padrón were very supportive of the project," recalled Westbrook. "It fit with Dr. Padrón's idea of a college bringing together the ideas of the community in order to meet the specific needs of the community."
More Features Articles