---
Making Their Mark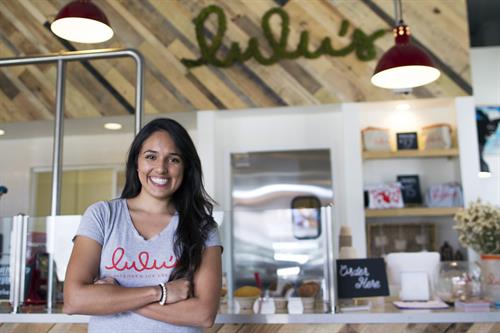 Just Say 'Moo'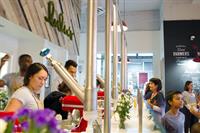 Lulu's features ice cream made from natural ingredients that is flash frozen with liquid nitrogen.
Luisa Santos is a devoted MDC fan – and it's easy to see why.
A native of Bogotá, Colombia, who moved to Miami at age 8 with her parents and sister, Santos was undocumented when she began her collegiate career at MDC.
"Miami Dade College was one of the few places that believed in giving all students an opportunity, even if they were undocumented," said Santos, who is an alumna of MDC's Honors College. "Miami Dade College is a unique institution. They always manage to be a step ahead in their policies."
Santos lived up to MDC's faith in her by studing international relations and graduating from Kendall Campus, studying abroad in France and completing a bachelor's degree at Georgetown with a major in political economics and a minor in education, inquiry and justice.
She had fully embraced the idea of working at the United Nations, being a teacher or serving as a consultant, but then her life took a fascinating turn. While at Georgetown, she heard about ice cream made using liquid nitrogen to instantly freeze the luscious dessert.
"It was delicious," she said.
Intrigued, she soon found herself driving to Maryland to buy her first tank of liquid nitrogen. She tried different recipes with one of her roommates that night. When everything went well, she went bigger.
"I volunteered my house to serve 150 trick-or-treaters," Santos said. "With the help of friends, we gave the kids an interactive mini-chemistry lesson, teaching them the science of making ice cream. We then served it, and they loved it."
That Halloween was the day Santos' ice cream business was born, said the now 25-year-old entrepreneur. She called her company Lulu's – her childhood nickname – and began participating in farmers' markets throughout Maryland, Virginia and the Washington area.
This year, she opened her first retail store, back in the city that first took her in – Miami. Santos brought in a pastry chef and has developed more than 40 flavors of ice cream that use natural ingredients. Since the ice cream freezes instantly, she is able to create a frozen treat naturally free of stabilizers, emulsifiers and preservatives. 
The store at 2001 Biscayne Blvd. in Miami has been a hit. Their website lulus-icecream.com gives details on everything from product ingredients and new flavors to catering options.
Santos, who is now a permanent U.S. resident, said it is great to be in the heart of Miami so close to her alma mater and Wolfson Campus.
As for teaching or working at the U.N., Santos said anything is possible in the future.
"I credit Miami Dade College with setting me on the right track," she said. "They gave me a wealth of opportunities, and this is the perfect place to be right now."
— WV
More Making Their Mark Articles