---
Making Their Mark
Media Maven With a Mission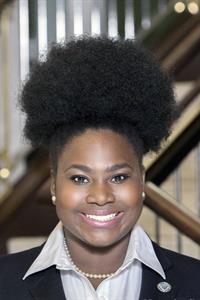 MDC alumna Danyelle Carter recently completed an internship at Univision and was named National Female Student of the Year by HBCU. Photo by Benjamin F. Kornegay Jr.
The summer was action-packed for Miami Dade College alumna Danyelle Carter, who completed a prestigious 10-week internship with Univision. Working in corporate communications and public relations, she helped organize a bevy of Cover Girl bloggers reporting on Premio Juventud coverage of Ricky Martin, Fifth Harmony and Pitbull.
"The week the broadcast was aired, Premio Juventud topped the rankings in the 18 to 49 demographic in Los Angeles, New York City, Miami and Sacramento," Carter said. "It was exhilarating to be around these stars."
The young MDC graduate also is topping the charts herself, recently having been ranked No. 1 in Buzz's "2015 Top 30 Under 30" and  then just four days later being named the "2015 National Female Student of the Year," by Digest, both publications of HBCU (Historically Black Colleges and Universities).
In her Univision work, Carter prepared coverage reports for the CEO and senior management team, drafted write-ups to send to magazines and news outlets about Univision's successes, wrote media briefs, conducted magazine audits, updated talent bios and completed challenging research projects. 
"Being on several leadership teams at MDC and being cheered on by everyone from North Campus President Dr. Malou Harrison and Journalism Professor David Merves to Student Services Dean Jaime Anzalotta built my confidence and the belief that I could help change the world," said Carter, who is set to graduate in May from Spelman College, where she is majoring in women's studies.
The young idealist already has transformed one corner of the globe. When she became the first MDC North Campus student to serve as District 1 President of the Florida
College System Student Government Association, she convinced the whole state group to partner with the international nonprofit Generosity Water. In 45 days, they raised $4,155, which was $1,155 over their goal, enabling them not only to build one well but also to complete another, providing clean water to more than 900 villagers in the east region of Ghana.
"Before, women in that area used to get raped walking dozens of miles to get fresh water for their children," Carter said. "Now they have a well right in their community."
And she's not stopping with one well. Carter plans to use the journalism skills and public service mission built at MDC with the intellectual acumen developed at Spelman to work for women's rights now and far into the future.
"MDC instilled in me the skills and mind-set to be a true global citizen," she said.
More Making Their Mark Articles