---
Making Their Mark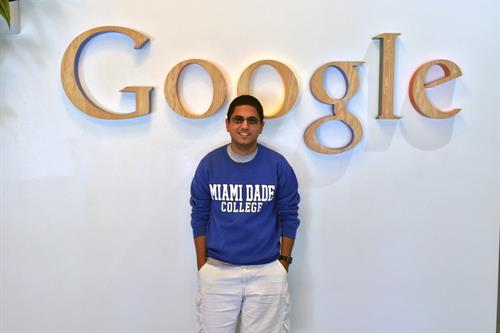 Thriving in Silicon Valley
MDC alum Luis Larco is having the thrill of a lifetime since he began his career in July as a software engineer at Google headquarters in the San Francisco Bay Area.
"Everyone here is so smart," said the 24-year-old. "I'm getting a lot of challenging work, and I like that. Being in Silicon Valley has opened my mind to the power of technology and how much positive change it can bring to the world."
After graduating from The Honors College at MDC, Larco went on to study at the Illinois Institute of Technology in Chicago, where he earned dual degrees in electrical engineering and computer engineering with a minor in applied mathematics.
"There is a world outside of Miami that I needed to explore, and The Honors College gave me the mind-set to want to leave home and show off my skills so I could become a better member of society," said Larco, a native of Lima, Peru, who moved to Miami at age 14.
"My MDC computer science professor, Juan Carlos Martínez, challenged me outside the curriculum with difficult programming problems," said Larco, who won first place at Florida's State Mathematics Olympics while at MDC. "And Professor Alvio Domínguez taught me very advanced math topics during his free time while preparing me for the mathematics competitions, becoming one of my great mentors at MDC."
— WV
More Making Their Mark Articles