---
Powerful Partnerships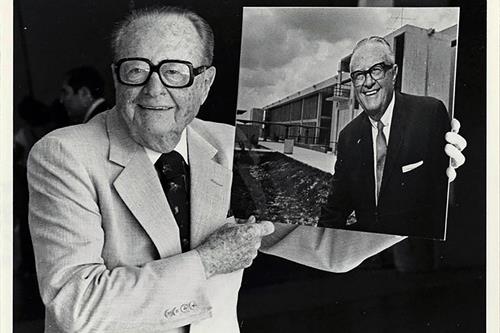 The Gift of Higher Education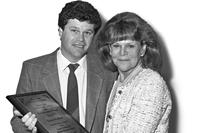 The Wolfson family has generously supported Miami Dade College since its founding in 1960. In this photo from 1986, Lynn Wolfson was given a plaque thanking her for her support of the Louis Wolfson II Media History Center. Pictured with her is her son and former MDC Trustee Louis Wolfson III.
The Wolfson family has supported Miami Dade College since its founding in 1960, generously donating a total of $145 million throughout the College's history. Most recently, The Mitchell Wolfson Sr. Foundation donated $6.3 million to support new and ongoing initiatives as part of MDC's mission to change lives through the opportunity of education.
"Over the decades, the exceptional support of the Wolfson family and of the Mitchell Wolfson Sr. Foundation has enabled Miami Dade College to transform the intellectual, cultural and higher education landscape throughout South Florida," said MDC President Dr. Eduardo Padrón. "Their commitment to giving back to the community is an inspiring model to be emulated."
The current Wolfson gift will support a vast range of initiatives at Miami Dade College, including the creation of a new MDC School of Fashion Design and Technology, the expansion of the Emerging Technologies Center of the Americas (ETCOTA) and the continuing support of outreach, arts and other important MDC programs.
In particular, the gift to ETCOTA will prepare MDC students to enter the burgeoning technology workforce in such varied areas as cybersecurity, big data analytics, advanced manufacturing, robotics, mechatronics, animation and game development, among other exciting fields. For more on the expanding, hands-on learning environment at ETCOTA.
More Powerful Partnerships Articles