---
Cultural Spotlight
Art From a Personal Angle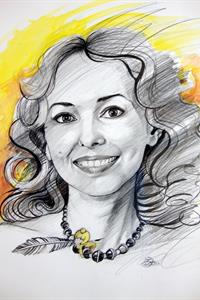 'Portrait of Norma Niurka' by Laura Luna del Campillo
This fall, MDC Galleries of Art + Design offers a glimpse into the personal side of art collecting with an exhibition of works from the Norma Niurka Collection.
A theater critic for the Miami Herald/El Nuevo Herald with strong ties throughout the South Florida arts community, Niurka collected a treasure trove of works by Latin American and Caribbean artists, most of whom were personal friends of hers. Gifted to MDC upon her passing in 2013, Niurka's collection is now part of the College's Permanent Art Collection.
"We are always motivated to bring the MDC Permanent Art Collection to the campuses, and Ms. Niurka's collection is a treat," said Campus Galleries Director Wanda Texon. "Its personal nature – most of the works were gifts from her artist friends – provides an insight for visitors who are interested in the idea of the collector and how they might build a particular group of works."
Among the artists whose works will be on display are Antonia Eiríz, Arturo Rodríguez and Ramón Carulla.
The Norma Niurka Collection at MDC runs through Dec. 4 at the College's InterAmerican Gallery. For details on gallery hours, visit mdc.edu/galleries.
— MR
More Cultural Spotlight Articles