---
Making Their Mark
At the Helm of U.S. Commerce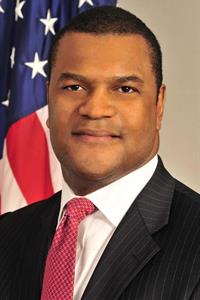 Marcus D. Jadotte
Marcus D. Jadotte said he can't imagine who he would be without Miami Dade College.
Fortunately, he doesn't have to consider that alternative. As assistant secretary of commerce for industry and analysis, Jadotte is currently serving in President Barack Obama's administration. He works for the International Trade Commission at the U.S. Department of Commerce and was confirmed by the Senate on Dec. 16, 2014.
Jadotte works as the Department of Commerce's primary liaison with U.S. industry and trade associations, addressing concerns and supporting national competitiveness. He also heads the division that conducts research and analysis on issues that impact the mission of the International Trade Commission.
It's impressive stuff, showing just how far he's come since his early years. He was born in Nassau, Bahamas, and came to Miami as a pre-schooler, graduating from Miami's Carol City High School before enrolling at MDC's North Campus.
Jadotte was accepted to all the universities and colleges he had selected, and he then chose MDC.
"It made economic sense for my family, and it was a good choice – a very good choice," Jadotte said. "I finished my undergraduate work (a bachelor's degree in economics from Florida State University) with very little debt.
"MDC prepared me very well for the balance of my undergraduate work and into graduate school. It also gave me the flexibility to work in the public sector early in my career, which is something I couldn't have done had I carried a lot of debt.
"I would not have had the career I have had so far without the academic experience I had at MDC."
After college, Jadotte served as chief of staff for Congressman Peter Deutsch. He later held the same position while working for Congresswoman Debbie Wasserman-Schultz.
Jadotte also worked in the Labor Department, serving in the Clinton administration. And he was vice president of public affairs and multicultural development for NASCAR.
Through it all, Jadotte has become a strong advocate for Miami Dade College.
"Without institutions such as Miami Dade College, so many Americans would not have the opportunity to access higher education," he said. "They wouldn't have the opportunity to take advantage of the most fundamental building block of the American dream.
"MDC is an amazing asset for the community."
— WV
More Making Their Mark Articles