---
Making Their Mark
Never Missing a Beat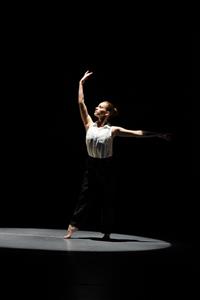 NWSA alumna Gaby Díaz recently was named "America's Favorite Dancer" on So You Think You Can Dance.
The dance talent of Gaby Díaz impressed her teachers at New World School of the Arts at MDC when they first met her. Now she has wowed the nation with her recent win on Fox's reality competition So You Think You Can Dance.
The final four shows leading up to the finale were grueling, but Díaz never lost her composure nor her ability to excel under pressure.
Even Judge Nigel Lythgoe was impressed, commenting that the young NWSA alumna has a unique, ineffable style that was "beautiful to see."
Back home, her fans couldn't be happier, starting with Mary Lisa Burns, NWSA's dean of dance.
"We are so proud of Gaby," Burns said. "Her talent, versatility, training and professionalism were thrilling to watch, week in and week out, this summer. She represented so much of what we work to instill and inspire in our students here at New World and we are overjoyed, though not surprised, at her wonderful success!"
More Making Their Mark Articles