---
Making Their Mark
Twice a Winner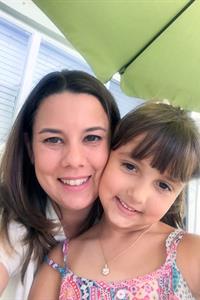 MDC student Cristina Pappaterra celebrated the news of her awards with her daughter Camila Moreno.
For the second year in a row, recent Miami Dade College graduate Cristina Pappaterra has won the National Student Honor Award from the prestigious American Society for Clinical  Pathology.
While at Miami Dade College, Pappaterra balanced her studies and a part-time job as a tutor alongside the major responsibility of raising her daughter, 6-year-old Camila. She made it all work, earning an Associate in Science degree and winning in both 2014 and 2015 the coveted award, which honors outstanding academic achievements and leadership activities in the medical laboratory sciences.
Pappaterra is now working at the University of Miami Hospital as a medical technologist in the Pathology Department. She ultimately aspires to earn a master's degree in genetics or microbiology and credits others for much of her success.
"It helped a lot having the full support of my family," she said. "And the faculty and staff at MDC helped immensely."
More Making Their Mark Articles