---
Making Their Mark
Flying High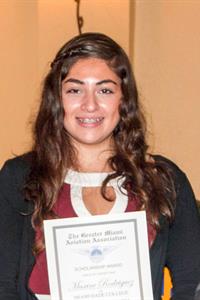 MDC student with one of her scholarship awards
Maxine Rodríguez had the real-world career experience of a lifetime for eight weeks this summer when she was chosen to participate in the internship program of the U.S. Department of Transportation's Women in Transportation Initiative (WITI). The hard-working student's achievements speak volumes on the merits of the aviation program at MDC, which was the only college in the region to have a representative in the program.
Rodríguez, who studies in the School of Aviation at Homestead Campus, worked in the control tower of the Federal Aviation Administration at Miami International Airport during her internship.
"I enjoyed the opportunities to learn in real time and give back to the community," said Rodríguez. "The internship through WITI solidified my love for aviation."
An outstanding student, Rodríguez was one of just five students to receive MDC's prestigious Timothy E. Johnson Jr. Scholarship in 2015. And she also was among the talented few when four MDC students were awarded the Greater Miami Aviation Association Scholarships worth $6,000 each. In addition, she is the new captain of MDC's Flight Team, which recently earned top honors from the Society of Experimental Test Pilots for both safety and team sportsmanship.
For more on MDC's Eig-Watson School of Aviation, see mdc.edu/homestead/aviation.
More Making Their Mark Articles