---
Academics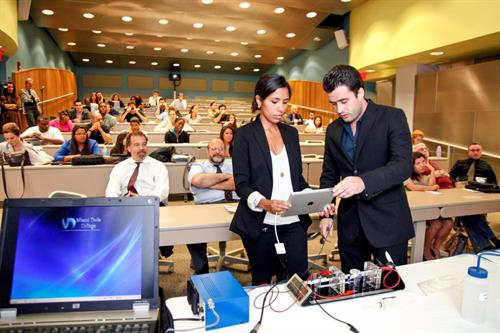 A Fuller 'ARC' to Success
The STEM fields of science, technology, engineering and math are opening up more than ever to underrepresented students at Miami Dade College thanks to a new grant.
ARCOS – short for "Accelerate, Retain, Complete with Opportunities and Support" – is a five-year grant program based at Wolfson Campus and sponsored by the U.S. Department of Education (DOE). This new support picks up where the DOE-funded STEM First-Year Experience (STEM FYE) program left off to guarantee that students of every background have good chances of excelling in STEM studies and careers.
STEM FYE bore outstanding results, raising enrollment, retention and cohort progress exponentially for first-year students pursuing STEM pathways. ARCOS is similarly focused on retention and completion, while offering structured student and academic support services. One particularly innovative component of the new program is Fast and Furious with Friends and Family (F4), which aims to help students accelerate their college STEM experience with support from family and friends through personalized services focused on creating a strong math foundation, mastery of habits and exposure to STEM fields.
"The emphasis will be on improving pass rates for Intermediate Algebra, which is a key course for progression in STEM-related fields," said ARCOS Director Monica Minchala. "Research and project development opportunities will be primarily for second-year students, who will be better prepared to undertake the challenge during the major terms."
— MR
More Academics Articles